jollyhappy - a scrumptious range of bespoke
hand-painted gifts and room accessories.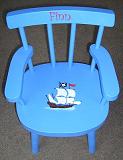 Whether it's for a child or a grown-up; a friend, a relation or even yourself, we can make it a really special gift, no matter how large or small.(& we can gift-wrap too!)
Simply choose the gift, the design and the colour scheme and we will make it!


Looking for a Christening gift? Why not give a beautiful personalised wooden chair or stool; a special yet practical present that will be both treasured and used for years to come.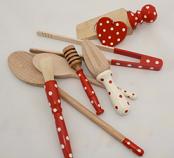 Why not have a look at the kitchen utensils range which includes a luscious lemon reamer and a delightful honey dripper. Find them on the For Grown Ups page, together with some gardening gifts!

Have a browse, you'll be spoilt for choice!