On this page you will find Garden Gifts, Kitchen Gifts, Letter Racks, Chalkboards, Hanging Signs, Peg Rails and Hanging Decorations...

Garden Trowels & Forks
For the green-fingered ones in your life. These Spear & Jackson hand tools are made of rust-coloured epoxy-coated steel with ash handles which we handpaint with a design of your choice, such as daisies, spots or perhaps a name or honorary title!
These can be purchased in a Gorgeous Garden Set - a delightful rustic trug filled with a trowel, a fork & a ball of natural twine, all gift-wrapped in cellophane making a complete present ready to give!
£25
Or opt to buy them either singly or as a matching pair.
One Trowel or Fork £9
Trowel & Fork Pair £17


Hanging Signs
...choose from one of our standard signs or come up with your own idea. Very popular as a "little something" gift for friends... makes a change from the usual smellies or chocolates! How about an "I'm in the garden" sign with a plant for a green fingered friend or "No Entry" for that awkward teenager?
(8cm high x 20cm long in 9mm MDF with a wire hanger, bespoke signs can be made in different sizes. Please note that the length and thickness of these signs has been changed.)
Standard Signs £9
I'm in the Garden
Boot Free Zone!
Please wipe your paws
No Entry
There are also signs in Dear Little Gifts designed more specifically for children.
Bespoke Signs £15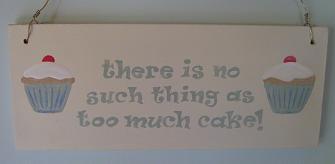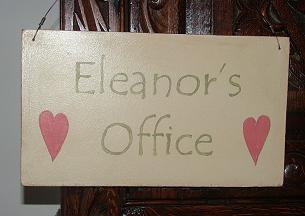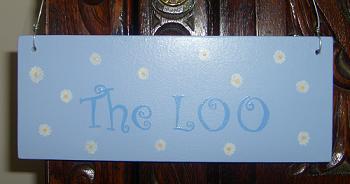 Peg Rails
...These come in two standard lengths, 3 pegs (45cm long) which fits on most doors and 6 pegs (90cm), and are decorated between the hardwood shaker pegs. Ideal for coats, pinnies or just for hanging pretty things from!
Just ask if you need a longer rail!
(The back boards are made from 18mm MDF, are 12cm high and come pre-drilled with brass screws. The pegs are about 7½cm long.)
3 peg rail £15
6 peg rail £25

Single Pegs
...a single hardwood shaker peg with a decorative backboard. You can choose whatever design you like from our standard range, how about one with our lovely Dog theme with paws and bones for hanging the dog lead on?
(12cm high x 10cm wide, peg length about 5½cm; comes with sticky pad fixings but alternatives are available.)
£7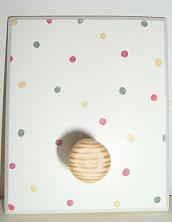 If you want a bespoke design, we charge a
little more...
£8
Keyrings
These speak for themselves really... the choice is yours!
£4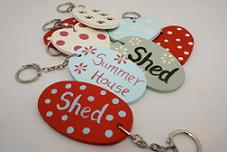 Door Wedges
Lovely beech door stop with a painted spotty handle.
£6.50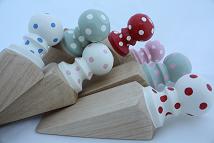 Kitchen Gifts
Utensil Pots
These are rather like the pencil pots in the
Dear Little Gifts range but, instead of a clutch of colouring pencils, they come with 2 wooden spoons with fun handpainted spotty handle tops!
We have listened to our customers and these are now bigger than the pencil pots so that there's plenty of room for more utensils - no new photos yet but they are coming soon!.
(These are made from MDF and measure about 12cm square and 15cm tall, and come gift-wrapped!)
£12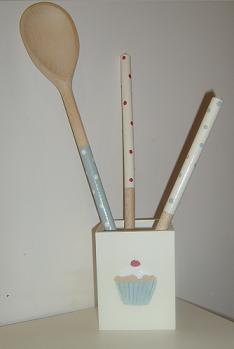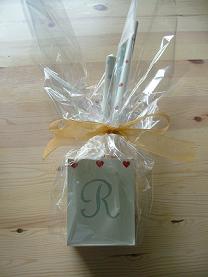 Wooden Kitchen Utensils
Definitely a winning gift! Whether you choose the classic cream & duck egg colour combination for the spots or something to match their kitchen decor, these make a lovely little gift for a friend.
These are lacquered over the paint but,
like all wooden & painted items, they don't like a good soak or being scrubbed and they are
NOT DISHWASHER SAFE- so please wash gently!
Wooden Spoons
These are made of beech, the bowl is waxed and the top of the handle is painted and lacquered. There are 2 lengths currently available: 31cms & 20cms (12" & 8").
Large £2.50
Small £2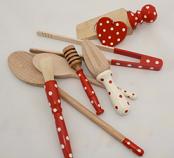 Lemon Reamer
The luscious lemon juicer is back! It's made of beech and, apparently, Delia thinks this style of juicer is great -
glad to hear that she agrees with us!
£4.50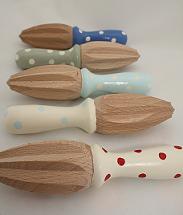 Pastry Brush
Another delightful little utensil, available in spots using your choice of two colours!
£4.50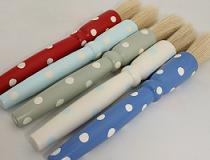 Honey Dripper
These are just as sweet as the honey they are used to serve... and what a delightful gift for a friend... just pair with a delicious jar of local runny honey... yummy!
£4.50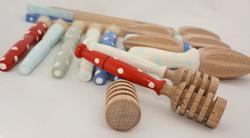 Wooden Tongs
A bit more unusual, but I just couldn't resist these -
they are great for rescuing your toast and for cooking with non-stick pans!
£4.50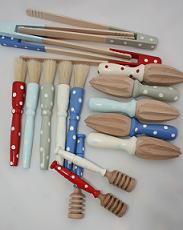 Magnets
Dear little magnets, heart-shaped or round, decorated with spots or cupcakes or flowers or messages or insects or... well, you choose! About 5cms in size.
£4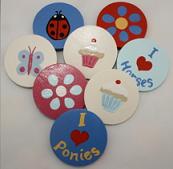 jolly important stuff! Clip
If you always have many pressing items to remember, how about one of these? Constructed just like the Work Clips for kids' stuff (just without the gold star!), these are ideal for keeping hold of those must deal with today bits and pieces, and they're decorated with cupcakes!
(these are made from 6mm MDF and measure about 14cm wide and 18cm tall, with a wooden peg clip and a brass glassplate from which to hang it!)
£8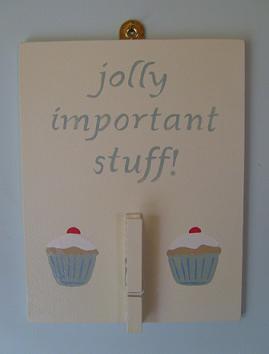 Letter Racks
...just the thing to avoid jammy spills or coffee rings on your bills! Throw out the junk mail and pop the rest in here to deal with later. Again, these can be supplied with any standard design on the front or personalised to your requirements.
We have found a new supplier for this & it is now a little more generous - so it will accommodate all your post, even the latest Boden catalogues!
(Made from MDF, these measure about 23.5cm long by 13cm deep by 17cm high .)
£14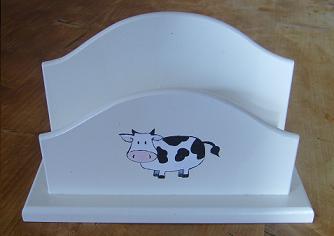 jollyhappy decorations!
Dear little hanging decorations just waiting to be given (or kept for yourself!).
We have a range of Christmas decorations currently in production... hearts, stars, christmas trees and circles (with little christmas puds on them). Please give us a call for more details!
from £3 each
If you would like these personalised with a name and/or year then they are a little more
from £3.50 each
(£3 each for orders of 8 or more matching ones!)
For personalised hanging stars & hearts,
please go to the Dear Little Gifts page.