On this page you'll find the larger items that we produce for children... stools, armchairs,
toy chests & boxes, treasure chests, peg rails & canvases.
For smaller items please go to
Dear Little Gifts.

Stools
...these sturdy little stools are made from solid beech and make lovely presents for those early celebrations; birth, christening, first Christmas, first Birthday, or any happy occasion!

(They stand about 24cm high, perfect for little people and later for feet or coffee mugs!)
£40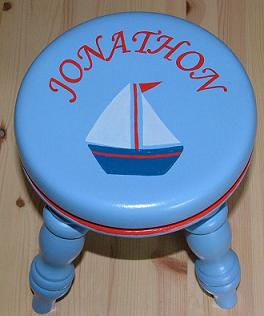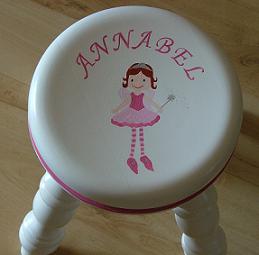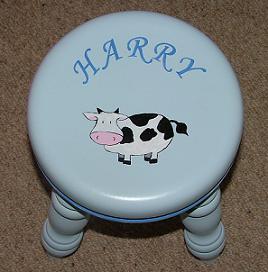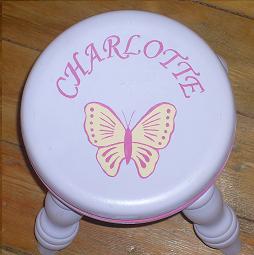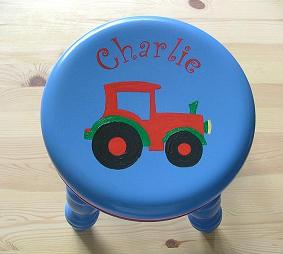 ...and just to show that fairies don't
have to be pink, pink, pink..!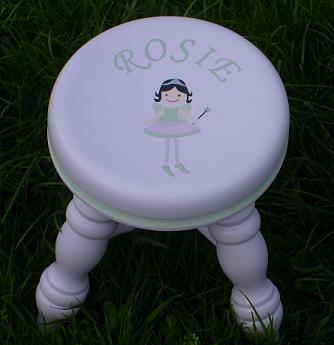 If you look on the Other Ideas page, you will find some more unusual designs.
Little Wooden Armchairs
Handmade in Cornwall, these delightful pine armchairs make a superb gift for any special occasion for a baby or small child.
They are generously proportioned with plenty of room to accommodate children up to about 7 years old.
A name can be written across the backrail and a design motif painted on the seat, with, of course, a personal message on the underside.
(The seat is about 27.5cms high, with the overall height being 52cms and the width 36cms.)
£68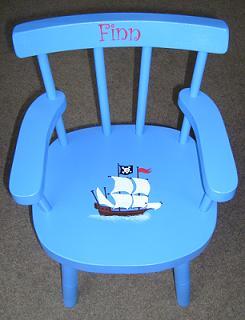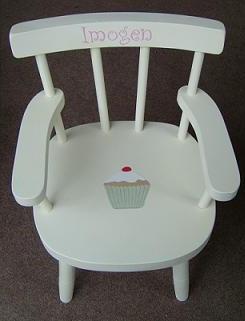 Jewellery Boxes
...these darling little jewellery boxes are made from solid lime wood, have a lift-out compartmented tray and the cutest little brass key with which to lock up your treasures.
It is bigger than the old trinket box (pictured) which is sadly discontinued but is in the same style... new pictures coming soon!
(The jewellery box is 15cm by 10cm by 10.5cm)
£25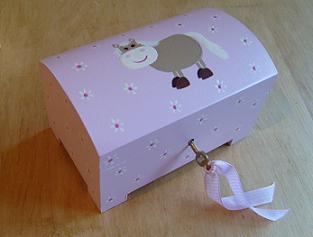 Peg Rails
...hardwood shaker pegs with hand-painted pictures between them. There are 2 different lengths to choose from: 3 peg (45cm long) which will fit on a door and 6 peg (90cm long).
If you need a peg rail of a different length, don't hesitate to ask - our longest so far is 6ft!
(The back boards are made from 18mm MDF, are 12cm high and come pre-drilled with brass screws. The pegs are about 7½cm long.)
3 peg rail £15
6 peg rail £25


Also available is a deeper 3 peg rail with space for a name. (15cm high X 45cm long.)
£20
<![if !vml]>
<![endif]>
Giant Toy Chests
These are brand new to the jollyhappy collection. They are made of solid pine and most importantly of all they have a clever anti-drop device installed so that there is no way that the lid can drop on little fingers. The lid will stay at whatever position it is pushed up to and has to be pushed down to close it.... it's brilliant! We searched long and hard to find this device so that we could offer big toy boxes that will give you (and us!) peace of mind, as well as beautiful piece of furniture for your home.
This box has simple lines that will sit comfortably in any style of home and is very substantial both in its construction and in its capacity to hold LOTS of toys!
The box is painted and decorated on the outside and the inside is finished with lemon oil (traditionally used for the insides of boxes & drawers and derived from lemongrass oil).
(93cms long, 48cms deep and 51cms high.)
from £195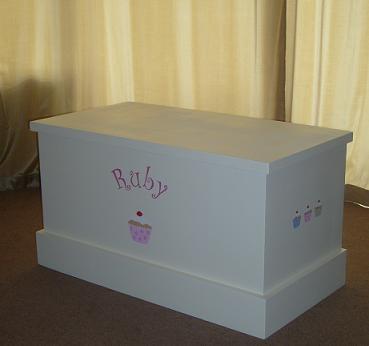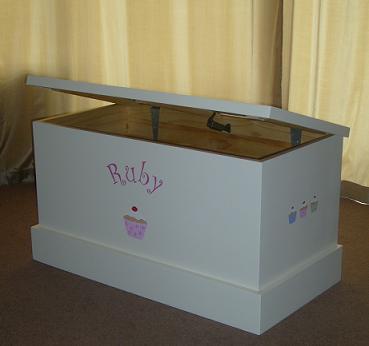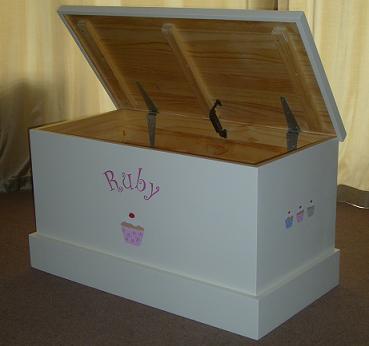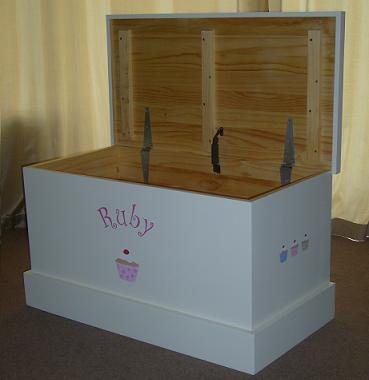 Small Toy Boxes
...very solid and made from MDF, with special gaps to help prevent trapped fingers and lids that open right back. A small piece of furniture that makes a useful addition to any bedroom or playroom. The new design of this box includes hand-grip cutouts (which are rounded off, so no sharp edges) which makes it more easy to carry.
(Max dimensions are 34cm deep x 42cm wide x 30cm high.)
£68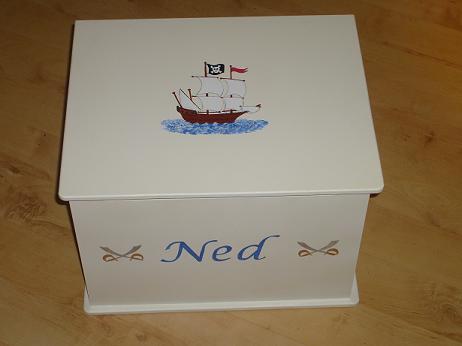 Canvas Pictures
Handpainted NOT printed canvases with your favourite motif from our standard range or, if you prefer, your own image. We can also decorate them with a name (and a date too) as required. As always the colour scheme is your choice, including the background.
If you would like a grouping of mini canvases, do give us a call to discuss the discount available on matching groups.
(We have now 3sizes; the mini, 20cms square , the standard, 30cms square and the giant, a very generous 50cms square.)
Mini Canvas £14
Mini Canvas with Name £16
Standard Canvas £19
(with or without Name)
Giant Canvas £28
(with or without Name)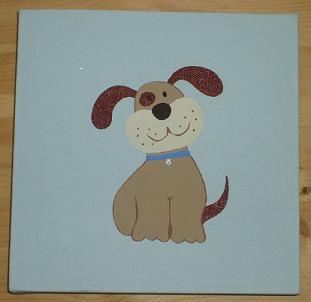 Mini Canvas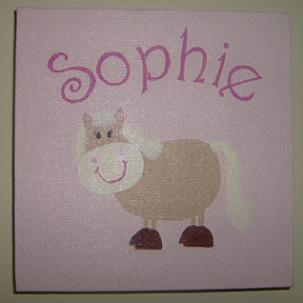 Mini Canvas with Name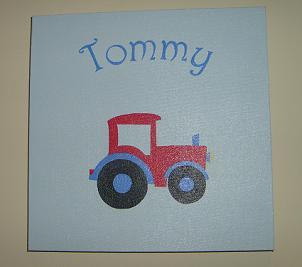 Standard Canvas with Name
Don't forget to check out the Birth & Christening Canvases if you would like a canvas with more details of a special day on it! just follow this link!