On this page you will find keepsake boxes, christening stools & armchairs, birth canvases & giant toy chests.
Keepsake boxes
...the ideal gift for the bride & groom who already have everything!
If you can't bear the thought of buying towels from the gift list, why not buy them a personalised keepsake box for their wedding day mementos.
We are happy to co-ordinate the box with their wedding colour scheme, perhaps even matching their wedding stationery. We also hand-paint the wedding details, or whatever simple message you would like, onto the underside of the lid. The box comes beautifully gift-wrapped in cellophane and fabric co-ordinating ribbon, ready to give!
(The box measures approx. 34cm X42cm X30cm, this is a spacious box that will really be able to fit plenty in, not just the order of service & a handful of confetti!)
from £70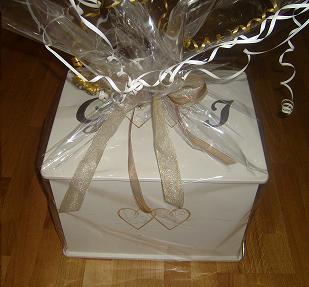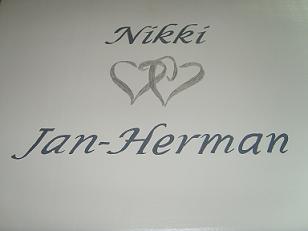 This box is also available as a baby's keepsake box, for storing all those precious firsts... shoes, outfits, handprints, the list is endless! Choose delightful themed designs and their name to decorate it and their birth details or a simple message inside... a lasting birth or christening present that is both beautiful and useful!
Christening Stool
the original jollyhappy gift!
... a truly lovely present to give which will have loads of use from little ones.
As well as your own choice of colours, design and name, we will paint a message around the underside to mark the special event.
For example:
For your christening, with love from Uncle Nick, Auntie Jane & Maisie xxx 27.1.07
(These sturdy little stools are made from solid beech and stand about 24cm high.)
£40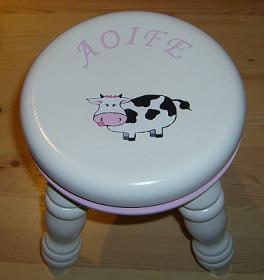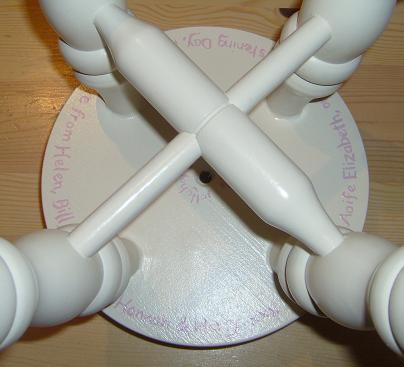 For more pictures of stools, please go to
Little Wooden Armchair
...these delightful pine armchairs make
a superb christening gift.
Handmade in Cornwall from pine, they are generously proportioned with plenty of room to accommodate children up to about 7 years old.
A name can be written across the back rail and a design motif painted on the seat, with, of course, a personal message on the underside.
(The seat is about 27.5cms high, with the overall height being 52cms and the width 36cms.)
£68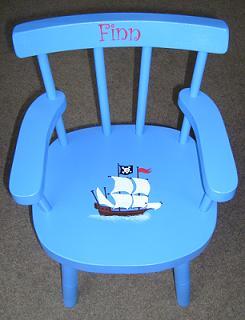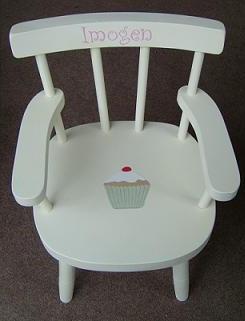 Birth Canvas
A new product that we are sure you will love! Ideal for christenings and naming ceremonies as well as births, we can write the details of the big day around a central image creating a gift that is very personal and decorative at the same time.
(The canvas measures 20cm x 20cm.)
£19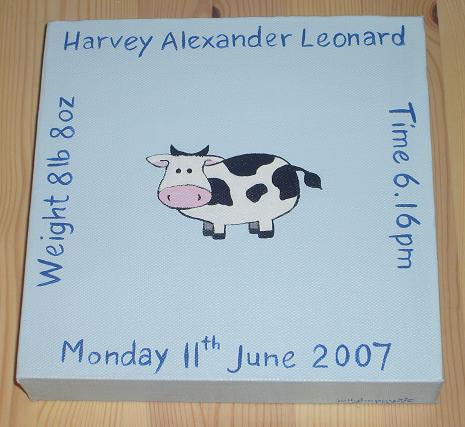 Alternatively, if you have fewer details to record have a look at this layout.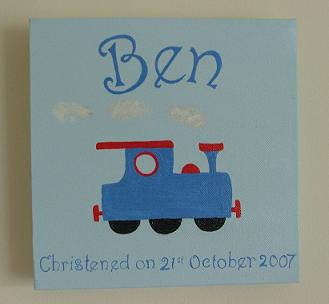 Giant Toy Chest
A beautiful gift for that special child!
This is made of solid pine and most importantly of all it has a clever anti-drop device installed so that there is no way that the lid can drop on little fingers. The lid will stay at whatever position it is pushed up to and has to be pushed down to close it.... it's brilliant!
This box has simple lines that will sit comfortably in any style of home and is very substantial both in its construction and in its capacity to hold LOTS of toys!
The box is painted and decorated on the outside and the inside is finished with lemon oil (traditionally used for the insides of boxes & drawers and derived from lemongrass oil).
(93cms long, 48cms deep and 51cms high.)
from £195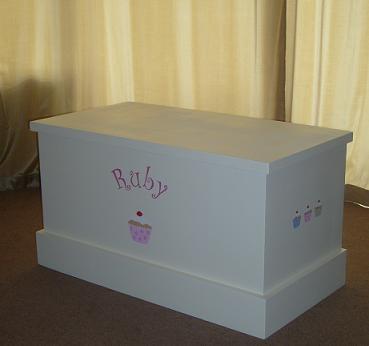 For more pictures, please go to
the For Children page.