Looking for a special little gift for
someone small? Then look no further!
On this page you will find... hanging decorations and signs, little boxes, heart-shaped boxes, money boxes, hair brushes, name plaques, chalkboard name plaques, pony brushes, work clips, pencil pots, single pegs and mini canvases!

Hanging Hearts & Stars
...little wooden hearts and stars (about 8cm across) hung on ribbon, painted in a colour of your choice and decorated with tiny spots and the child's name.
£3.50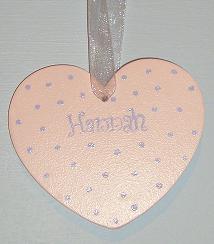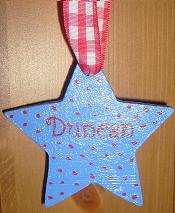 These make gorgeous party bag favours
- a refreshing change from plastic novelty toys! So for orders of 8 or more in the same colourway, we only charge £3 each.
Hanging Signs - for kids!
...an old favourite but with new designs for little princesses and their brothers too!
(8cm high x 20cm long in 9mm MDF with a wire hanger)
£8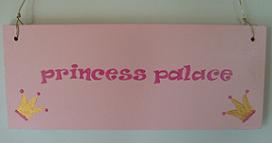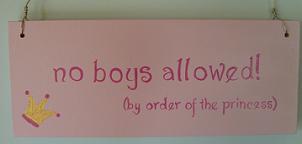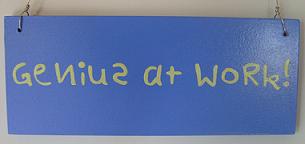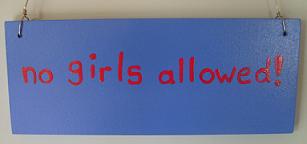 and not forgetting the pony lover in your life!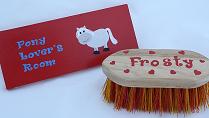 Big Heart Boxes
...just the thing for all those girlie knick-knacks! These generously sized boxes are ideal for dressing tables! Like the little boxes, these can be painted in any of our standard colours and smothered in daisies or spots together with a name. Alternatively, choose one of our designs for the top and we can arch the name above it.
(These measure approximately 17cms across & 6cm deep, are made of white wood, have a magnetic clasp & brass hinges. They are finished with lemon oil inside.)
£12.50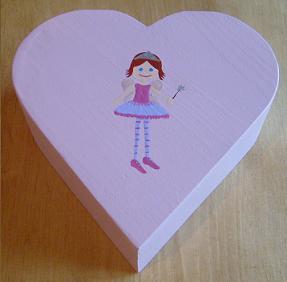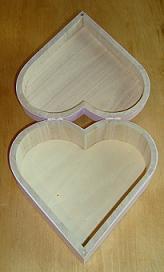 Money Boxes
...we like to listen to our customers and money boxes were mentioned again & again so we have found these for you!
So, choose a standard colour for the background, choose a design and tell us the name... and there you are... a dear little money box for the little darling of your choice! Just the thing for stashing their cash!
(These stand about 12cm high, 12cm wide and 10cm deep, so almost a cube, are made of MDF and have a bung in the bottom!)
£12.50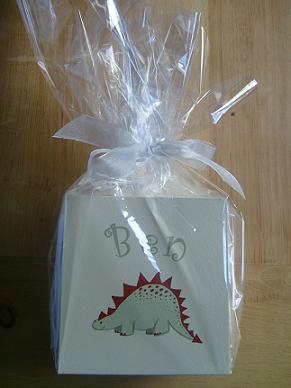 Name Plaques
...always a favourite with children for marking their territory They can be made up with your choice of colour, design and name. Then choose your preferred fixing: sticky pads, wire, or either bootlace cord or gingham ribbon (in a co-ordinating colour).
(These are made from 6mm MDF, with chamfered edges and measure 8cm high x 25cm long .)
£12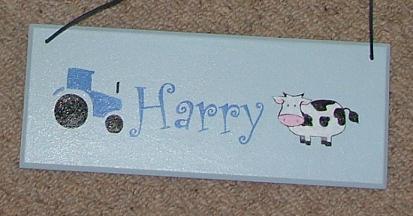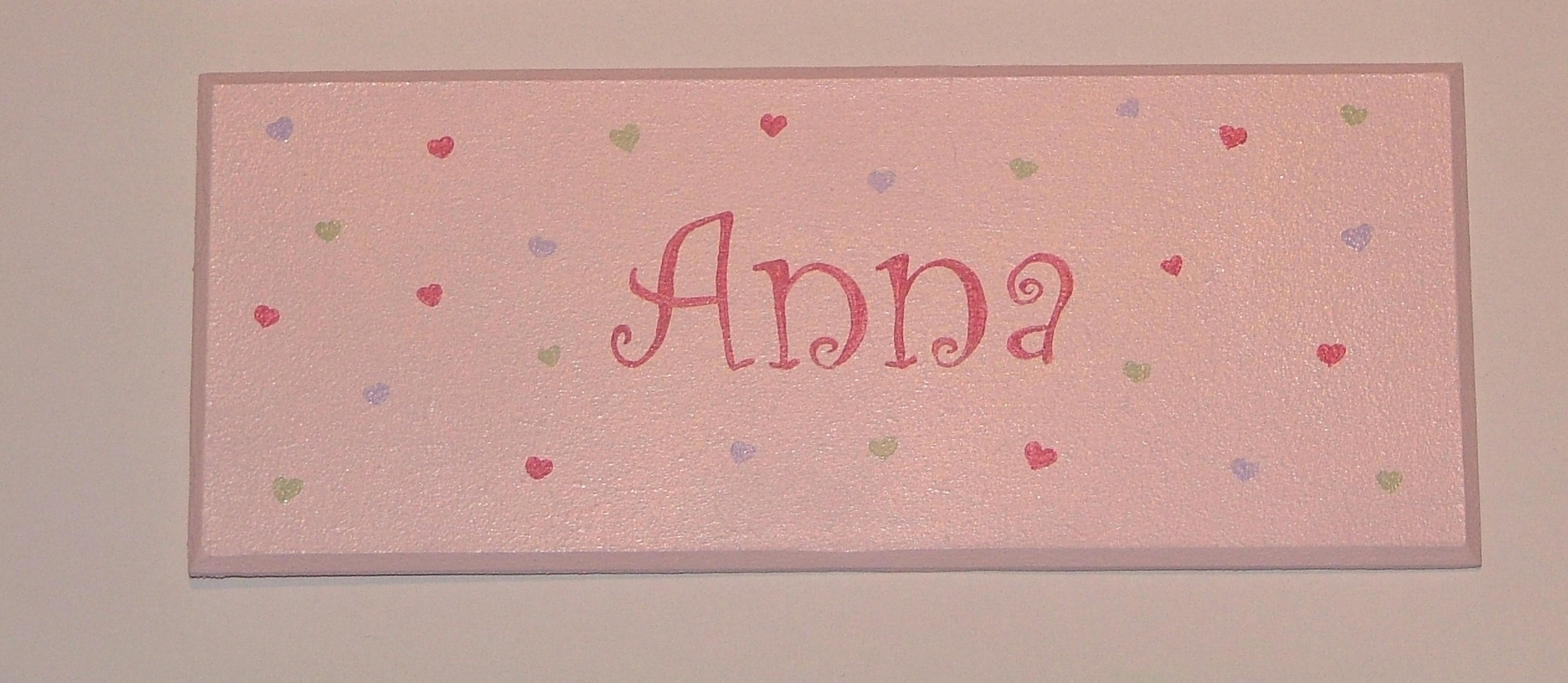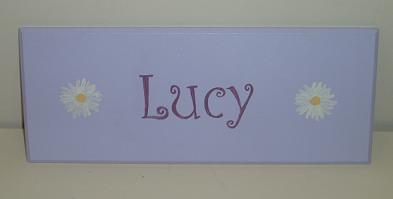 Chalkboard Name Plaque
A big name and a big hit with small and big kids alike! Just like our name plaques, you can choose the decoration, but then the new owner can leave their own message on it too!
Ideal for the slightly older child, this door plaque gives them the chance to leave messages for visitors without littering their door with post-it notes! We have made Chalkboard Name Plaques for children from the age of 4 right up to 14!
(These are also made from 6mm MDF with chamfered edges but measure 18cms high x 25cm long. Like the name plaques, they come with a range of fixing options to choose from.)
£15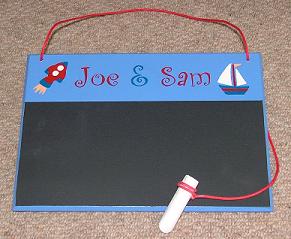 Work Clips
... just the job for displaying your little angel's work of art or fantastic homework! Complete with a gold star for effort, this clip can be personalised so that everyone knows "who did this!" Choose from two different designs on a cream background with your own choice of colours for the detail.
(these are made from 6mm MDF and measure about 14cm wide and 18cm tall, with a wooden peg clip and star and a brass glassplate from which to hang it!)
£8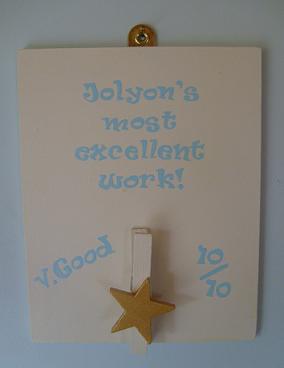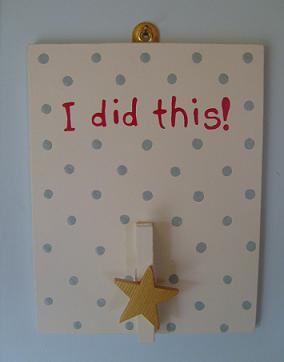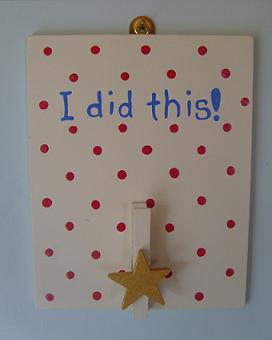 Pencil Pots
...a sturdy little pot ideal for all those pens and pencils, with a design and name on one side. This great little present comes gift-wrapped with a dozen coloured pencils in it.
(these are made from MDF and measure about 8cm square and 10cm tall.)
£10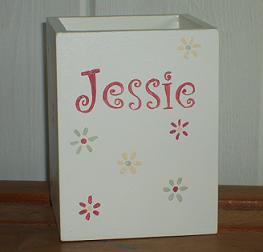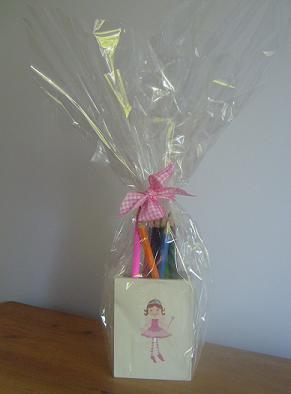 Single Pegs
..A single hardwood shaker peg with a decorative backboard. You can choose a standard design or we can put on a child's name or initial. Great for a dressing gown or school coat, it might even stop your little darling from hanging everything on the floor!
(12cm high x 10cm wide, peg length about 5½cm, comes with sticky pad fixings but alternatives are available.)
£7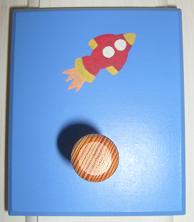 For a little more, we can do
a bespoke design.
£8
Mini Canvas
Cute frameless canvas pictures, handpainted to order with your choice of motif, with or without a name.
(They measure 20cm x 20cm.)
Mini Canvas £14
Mini Canvas with Name £16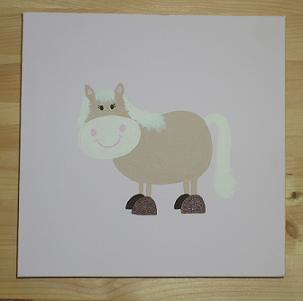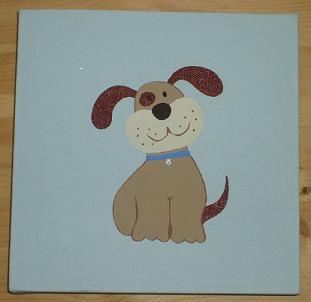 For a bigger impact, have a look at our Standard and Giant Canvases on the For Children page. Or, alternatively, think about a group of mini canvases - give us a call and ask about the discount available on canvas groups.